Categories
Photo Gallery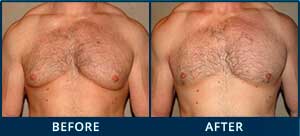 More Photos
March 20, 2023
The Benefits of Gynecomastia Surgery for a Bodybuilder's Confidence and Physique When you think of gynecomastia, many think about men with a lot of excess fat, and larger male breasts - and not about bodybuilders with gynecomastia. See the surgical process, as well as my patient's before and afte...
Read More ⇒
December 5, 2022
In my profession, as a gynecomastia and FTM top surgery specialist in Beverly Hills, I see many bodybuilders who struggle with "moobs" - gynecomastia. You may wonder how is it possible for bodybuilders to develop gynecomastia when they are constantly building muscle? Well, the answer is found in...
Read More ⇒
September 8, 2022
The different grades of gynecomastia play an important role in my decision-making when it comes to surgery for my patients in Beverly Hills. The severity of my patient's gynecomastia will determine my surgical approach. It is not a one-shape-fits-all kind of procedure, and consideration must be gi...
Read More ⇒