Categories
Photo Gallery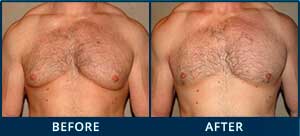 More Photos
Case Study: Overcoming Grade 3 Gynecomastia From Steroids
Posted by Dr. Dadvand May 19, 2023
Gynecomastia, the enlargement of male breast tissue, can be a distressing condition for men. It can occur due to various factors, including hormonal imbalances, medications, and steroid use. In this blog post, I delve into the case of a patient who sought my expertise as a renowned Beverly Hills Plastic Surgeon, to address his grade three gynecomastia resulting from steroid use. We'll explore the surgical process and the remarkable results achieved through a personalized approach.
Understanding the Steroid Gynecomastia Case
The patient, who had previously used steroids, experienced pain, tenderness, and fullness in his chest. Despite being on replacement therapy, the steroid-induced gynecomastia persisted. Since replacement therapy only alleviated the symptoms and did not reverse them, surgical removal of the excess breast tissue was the next best option to contour the chest and achieve pleasing results.
The Surgical Procedure
In preparation for the surgery, I have to meticulously mark the areas for surgery, noting the substantial extent of breast tissue. During this process, I also identified the need to reach higher than expected to address the gynecomastia fully. Once in the operating room, the breast tissue is removed through a carefully planned incision. I prefer removing the breast tissue first as opposed to opting for liposuction to ensure optimal results and avoid complications.
Refining the Results
While the initial removal of the breast tissue provided noticeable improvements, continued sculpting of the chest is required to achieve the desired aesthetic outcome. There's a big difference between fat and breast tissue. Thus, you cannot solely rely on liposuction to sculpt the area when gynecomastia is steroid-induced. By addressing the glandular tissue first, I can precisely trim the surrounding fat, ultimately achieving a balanced and proportional chest appearance.
Final Outcome
Post-surgery, the patient's gynecomastia was successfully resolved with a significant reduction in glandular tissue – emphasizing the minimal presence of fat. The patient's chest contour appeared natural, with improved symmetry and a good peck sweep, and requires no additional procedures such as an areola reduction.
Grade 3 Gynecomastia Concerning You? I'm Here to Help, Book A Consultation
As the video below demonstrates, I've successfully helped many patients address steroid-induced grade 3 gynecomastia. Restoring confidence with results that patients often marvel at. I'm Dr. Dadvand, a board-certified plastic surgeon with a background in fine arts that helps me shape natural and aesthetically pleasing contours. Contact my Beverly Hills office for a consultation and let's see how I can best help you achieve your desired results.