CONTACT US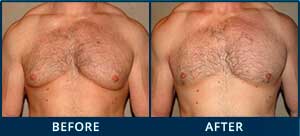 More Photos
More Information
About Dr. Dadvand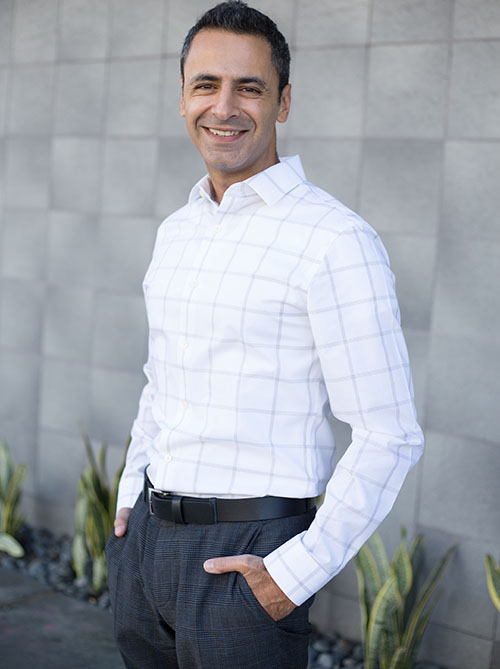 Dr. Dadvand is a double board-certified plastic surgeon in Los Angeles and Beverly Hills. He graduated magna cum laude from the prestigious Ivy League University of Pennsylvania where he majored in Fine Arts and Chemistry. Additionally, he trained at the world-renowned Cleveland Clinic where he served as Chief Resident in General Surgery.
Furthermore, Dr. Dadvand completed his plastic surgery fellowship at Indiana University, a rigorous top-tier program. He went on to complete a competitive aesthetic surgical fellowship in Beverly Hills. These eight years of plastic surgery training after medical school honed Dr. Dadvand's skills. This unique combination of an artist's eye and superior surgical technique helps Dr. Dadvand's patients achieve their cosmetic goals by producing natural-looking, long-lasting results.
Gynecomastia Surgery Specialist in Los Angeles
Dr. Dadvand specializes in gynecomastia surgery in Los Angeles and has focused a major portion of his practice to the treatment of males who have gynecomastia. He recognized early on that although gynecomastia is a common issue facing many men and teens, there were not many experienced surgeons for these patients to turn to.
Furthermore, Dr. Dadvand understands not only the physical impact but also the psychological impact that gynecomastia can have on a man. Some of the common issues gynecomastia in LA can cause include:
Low self-esteem
Embarrassment
Exclusion from certain activities
These are all common issues with males that have gynecomastia in Los Angeles. Dr. Dadvand uses his experience and superior technical abilities to not only help his patients look better, but also feel better about themselves. It is this improvement in a person's quality of life that drives Dr. Dadvand to produce outstanding results, every time.
EDUCATION AND TRAINING
CERTIFICATIONS
FELLOWSHIP AND RESIDENCIES
MEDICAL TRAINING
UNDERGRADUATE EDUCATION
University of Pennsylvania

Degrees: B.A. Chemistry, B.A. Fine Arts, 1995

Honors:

Graduated Magna Cum Laude
Phi Beta Kappa
Golden Key National Honor Society
Alpha Chi Sigma Award – Department of Chemistry
Phi Lambda Upsilon Honorary Chemical Society
All American Scholar Collegiate Award
Dean's List, University of Pennsylvania, 1991 – 1995
PRESENTATIONS AND PUBLISHED RESEARCH
PRESENTATIONS
2002 – Delaney C, Dadvand B, et al. Functional Outcome, Quality of Life, and Complications After IPAA In Selected Septuagenarians. Diseases of the Colon and Rectum. 45(7): 890-4; July 2002
2002 – Dadvand B. Carotid Endarterectomy. The Cleveland Clinic Guide to Surgical Patient Management. Pp. 235-40; 2002
2002 – Delaney C, Dadvand B, et al. Equivalent Function, Quality of Life, and Pouch Survival Rates After IPAA for Indeterminate and Ulcerative Colitis. Annals of Surgery. 236(1): 43-48; July 2002.
2001 – Dadvand B, Alexander F. Use of Intraluminal Stenting in the Management of Multiple Intestinal Atresias: Case Report and Review of the Literature. Journal of Pediatric Surgery. November 2001.
2000 – Delaney C, Dadvand B, et al. Pathological Subgroups do not Predict Outcome After IPAA for Indeterminate Colitis. Presented at the Association of Coloproctology Of Great Britain and Ireland Annual Meeting: July 2000.
PUBLISHED RESEARCH
2002 – Breast size as a Risk Factor for Breast Cancer Department of Plastic Surgery, CCF Preceptor: James Zins, MD
2001 – Function, Quality of Life, and Complications After Ileal Pouch-Anal Anastomosis in Septuagenarians Department of Colorectal Surgery, CCF Preceptor: Conor Delaney, MD, Ph. D.
2000 – Appendectomy: Single Institution Review Department of General Surgery, CCF Preceptor: Fredrick Brody, MD
1997 – Use of Mitomycin-C to Create a Stable Tympanic Membrane Perforation in a Rat Model Department of Otolaryngology, University of Pittsburgh Preceptor: Stephen Cass, MD
1993-1994 – Analysis of Tyrosine Kinase A, B, and C Subpopulations in the Rat Dorsal Root Ganglion Department of Neurology, University of Pennsylvania Preceptor: John Sladky, MD