CONTACT US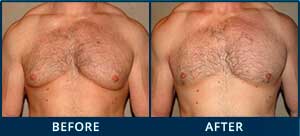 More Photos
More Information
Male Breast
Asymmetry Due to Gynecomastia
Written by Dr. Babak Dadvand
Male breast asymmetry is a form of gynecomastia, a condition in which a man develops enlarged breast tissue. Asymmetric gynecomastia can occur when breast tissue or excess fatty tissue develops unevenly or when it develops on only one side of the chest. It can also be the result of previous gynecomastia surgery.
Dr. Dadvand is highly experienced in treating male breast asymmetry and has restored the confidence of countless men through gynecomastia surgery for breast asymmetry in Los Angeles.
Bilateral Asymmetry
It is relatively common for men with gynecomastia to experience bilateral asymmetry, which occurs when different amounts of breast/fatty tissue are present on each side of the chest. With this condition, the breasts may be asymmetric in terms of the size, shape, and diameter of nipples and areolas. Dr. Dadvand operates on both sides of the chest to correct bilateral asymmetry in men. This can be done through liposuction and/or tissue excision surgery.
Unilateral Gynecomastia
Unilateral gynecomastia is much less common. In most cases, a small amount of breast/fatty tissue is present on one side, leading to the appearance of unilateral gynecomastia. Men with true unilateral gynecomastia have breast or excess fatty tissue present on only one side of the chest, while the other breast is normal in size and shape.
When Dr. Dadvand treats men with unilateral gynecomastia, he only needs to correct one side of the chest to restore a normal appearance. Depending on the type of tissue present, he may perform liposuction, glandular tissue excision surgery, or a combination of the two procedures.
Post-Operative Asymmetry
Breast asymmetry can also occur after men have undergone gynecomastia surgery. This can be caused by a surgeon's lack of skill, surgical complications, or hormonal changes due to weight loss or other factors. The only way to correct asymmetry after surgery is through a second surgical procedure.
If you are unhappy with the results of your initial gynecomastia surgery, Dr. Dadvand encourages you to wait at least 6 months before judging the results, as it can take a while for post-operative swelling to completely subside.
Risks and Temporary Side-Effects of Male Breast Asymmetry Surgery
Some of the temporary side-effects and potential risks associated with male breast asymmetry surgery include:
Changes in skin and nipple sensitivity
Visible scarring
Small chance of infection
Pain during the recovery
Correcting Male Breast Asymmetry
Dr. Dadvand, a double board-certified plastic surgeon who is highly experienced in treating gynecomastia, understands how breast asymmetry can affect a man's self-esteem and confidence. When he meets with men who suffer from asymmetric breasts, he takes the time to understand their concerns and conduct a full assessment before recommending treatment.
Dr. Dadvand will carefully examine the patient's chest to determine how much glandular (breast) or fatty tissue is present. He then creates a surgical plan for removing excess tissue to sculpt a more masculine appearance.* If you are unhappy with your appearance due to breast asymmetry, please contact our Los Angeles office and book an appointment today.
FAQs
Is asymmetric breast tissue a sign of malignancy?
Years ago, breast asymmetry in men and women was considered a sign of malignancy. However, this theory has been disproven. Generally, cases of asymmetry are considered benign. With this in mind, it's important to consult with a double-board certified plastic surgeon to help diagnose and treat the issue properly.
What does breast asymmetry mean?
Breast asymmetry in men means that the right and left pectoral areas have different shapes or sizes. This is a common sign of gynecomastia or male breast enlargement. There are many factors that can cause male breast enlargement, so you should consult with a seasoned expert to help address this condition as soon as you notice it.
Is it normal for a man to have one breast bigger than the other?
Gynecomastia affects a large percentage of men and this condition is known to cause breast asymmetry, so it's normal to find patients who want to address this problem. This is one of the reasons Dr. Dadvand has dedicated a large part of his practice to treating patients with this condition.
How common is asymmetrical breast tissue?
Asymmetrical breast tissue is relatively common and it's a sign of gynecomastia. This condition affects men of all ages and can produce the appearance of feminine, asymmetrical breasts.
How do you confirm gynecomastia?
Although most patients self-diagnose and are already aware of the problem before seeking help, the best way to get properly diagnosed is to find a double board-certified surgeon that specializes in gynecomastia.
*Results may vary