Puffy Nipples on Men
Puffy nipples are a common form of gynecomastia that causes an abnormal enlargement of the nipples and/or areolas (the darker skin around the nipples). Also known as puffy nipple areola complex or puffy nipple syndrome, this condition can destroy a man's confidence and lead to feelings of shame and embarrassment.
What Causes Puffy Nipples in Men?
There are three types of normal tissue present in human breasts – glandular or breast tissue, adipose (fatty) tissue, and connective tissue. Puffy nipples are usually caused by the presence of a higher than normal amount of glandular tissue or adipose tissue underneath the areola. This results in an abnormal protrusion of the nipples and/or dome-shaped areolas.
Like other forms of gynecomastia, puffy nipple syndrome can be caused by a variety of factors. These include having high estrogen levels, taking anabolic steroids, and having large deposits of childhood fat. In some cases, however, the cause of puffy nipples remains unknown. Puffy nipple areola complex is most often seen in men undergoing puberty and in young adults. While the condition may improve over time, it can take years for it resolve completely, leading many men to seek surgery to correct their puffy nipples.
Surgery to Correct Puffy Nipples
The only way to correct puffy nipples is through gynecomastia surgery, which should always be performed by a board-certified plastic surgeon who is highly experienced in performing male breast reduction surgery. When Dr. Dadvand consults with men who suffer from puffy nipples, he first determines which type of tissue is causing the puffiness. If adipose tissue is the main cause, he may use liposuction to create a more natural contour. If firm glandular tissue is present, then tissue excision can be performed to sculpt a more masculine contour. In some cases, Dr. Dadvand uses both techniques to achieve the best results.
Candidates for Puffy Nipple Surgery
If you have puffy nipples or abnormally shaped areolas, you may be a candidate for gynecomastia surgery. Before recommending surgery, Dr. Dadvand may suggest that you make certain lifestyle changes, which may correct puffy nipple syndrome without the need for surgery. For example, obese patients may benefit from a weight loss program as obesity can cause hormonal imbalances, which may be responsible puffy nipple areola complex.
Dr. Dadvand is a board-certified plastic surgeon who specializes in gynecomastia surgery. He leverages his extensive experience and training to help men with puffy nipple syndrome regain their confidence through gynecomastia surgery. If you are unhappy with your appearance due to puffy nipples, we encourage you to contact our Los Angeles office to schedule your initial consultation.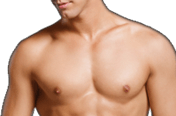 Schedule a Consultation
Call Us Today at (310) 278-4200