CONTACT US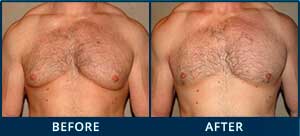 More Photos
More Information
Your Gynecomastia Surgery
Written by Dr. Babak Dadvand
Dr. Dadvand, a double board-certified plastic surgeon and gynecomastia specialist, consults and treats male patients of all ages. He understands that patients that have gynecomastia face daily challenges that limit their social and romantic life. However, it is important to note that having male breast enlargement does not automatically make you a candidate for gynecomastia surgery in Los Angeles.
At his Los Angeles practice, Dr. Dadvand carries out a full examination of each patient in order to identify the cause of gynecomastia. He also takes your specific requirements, as well as goals into consideration when designing a course of treatment. If you are interested in learning more about Dr. Dadvand's work, contact his practice and make an appointment today.
Who is a Candidate for Gynecomastia Surgery in LA?
The process of determining if a patient is a candidate for surgery in Los Angeles can be broken down into four steps. These are:
Step One: Establishing the Diagnosis and Identifying the Cause
Like other conditions, the first step to finding a solution is getting diagnosed by a double board-certified physician. Most of Dr. Dadvand's patients are already aware of the condition prior to their appointment. However, the initial consultation is also important to discard any pharmacological, endocrine, or medical issues that may be causing gynecomastia.
Step Two: Planning the Best Procedure
Once the cause has been identified, Dr. Dadvand will design a course of action to address the gynecomastia. During this stage, he will perform assessments to evaluate the quality and location of the tissue, skin tone, and nipple position. This is extremely important in order to customize the surgery to each patient's needs.
Step Three: Obtaining Medical Clearance
The next step is to collect blood samples and obtain medical clearance. This is necessary because Dr. Dadvand usually performs gynecomastia surgery in LA using IV sedation or general anesthesia, so you need to get the appropriate clearance in order to qualify for the procedure. Once this is received, everything is set for the surgery.
Step Four: Allowing Time to Recover
Patients need to give their body time to heal and respect the recovery period. In addition to taking time off work, you also need to limit the amount of physical stress you put on your body. This includes no lifting, exercising, and other physical activities for several weeks after the procedure.
Risks Associated with Gynecomastia Surgery
Some of the risk associated with gynecomastia surgery include:
Adverse reaction to anesthesia
Bleeding
Breast asymmetry
Shape irregularities in the breast or nipple
Pain during the recovery
Why Choose Dr. Dadvand for Your Gynecomastia Surgery?
The patient's willingness to adhere to the surgical recovery timeline is an important factor in determining the success of gynecomastia surgery. However, choosing the best surgeon will also improve your chances of success. Dr. Dadvand is a double board-certified plastic surgeon that specializes in gynecomastia surgery in Los Angeles. To learn more about his work, contact Dr. Dadvand's practice and book a consultation today.


When I think of Dr. Dadvand, I think perfection, I think excellence, I think care..This post took me over a year to write and for that I am deeply apologetic.. But I just had to be sure, and these results speak for themselves. Dr. Dadvand is an Amazing surgeon. From the minute I walked into his office, greeted by his staff, and shook his hand, I knew I wasn't going anywhere else. Everything from the consult on day one to post surgery follow ups, everything ran incredibly smooth.
READ MORE
FAQs
Is male gynecomastia reversible?
Gynecomastia is the enlargement of glandular tissue in the chest area. The tissue, which is generally benign in nature, is usually reversible and can be eliminated through different means including gynecomastia surgery in Los Angeles.
Is gynecomastia surgery safe?
In the general sense, gynecomastia surgery is very safe. However, keep in mind that it is a surgical procedure, which means that there is always some degree of risk involved. These risks can include bleeding, anesthesia complications, and infection, although the chances are very low.
Can gynecomastia go away without surgery?
Some cases of gynecomastia naturally recede after some time, but all patients are different. Before deciding on the best course of treatment, it is important to rule out any additional gynecomastia causes. If the gynecomastia recedes after the source has been taken care of, you will not need additional treatments. In cases where the tissue does not go away, the patient may benefit from gynecomastia surgery.
Is gynecomastia surgery painful?
There is a certain degree of discomfort after the procedure. However, gynecomastia surgery is performed under general anesthesia or IV sedation, so you will not feel pain during the procedure. Most patients are able to control mild pain after the procedure with over-the-counter medications. Dr. Dadvand will discuss the recovery course with you before the procedure.
How many days rest do you need after gynecomastia surgery?
After the procedure, Dr. Dadvand will apply a compression garment, which you have to wear for the first few weeks. High-intensity physical activity should be avoided for about 3 weeks, but you can return to school or work within a few days after the operation.