CONTACT US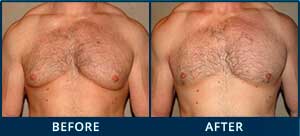 More Photos
More Information
Testimonials
I had been thinking about having gynecomastia surgery for over a decade before I finally decided to have it done this summer. I made sure to do a good bit of research before making my selection; I have a PhD in engineering and I took this on as a full-scale project. My choice of plastic surgeon was Dr. Dadvand. The qualities that drove me to see Dr. Dadvand were: 1) he specializes in gynecomastia surgery and does nearly a hundred of them each year, 2) he received many excellent and detailed reviews from many different people on various review sites, 3) the cost estimate for gynecomastia surgery was very reasonable, in the middle of the range of estimates that I obtained from plastic surgery practices throughout West LA, Santa Monica, and Beverly Hills, and 4) Dr. Dadvand has an excellent educational background. Dr. Dadvand's staff was very helpful in helping me understand what to expect from the procedure, while Dr. Dadvand himself is a very knowledgeable and friendly person. He put me at ease, and I never felt pressured to go through with the surgery until I felt ready. The best part was seeing the results of the surgery. I can now wear shirts that fit me well and I can stand tall and confident with my chest out forward. You owe it to yourself to see Dr. Dadvand if you are considering having gynecomastia surgery. – Jim Jones
So… I found Dr. Dadvand online by reading reviews similar to the one I'm writing now. I suffered from mild/moderate gynecomastia since I was 15 & I'm now 28. Upon researching, I determined it wouldn't matter how skinny I'd get, because I had an above average amount of glandular breast tissue. From then to now, I knew excision with a scalpel was mandatory to achieve a normal looking chest. What has always been my main obstacle was finding a way to fund the surgery. It's taken me the past 3 years to save up the $ & I finally decided to pull the trigger. After a lot of internet research, I narrowed it down to three dr.'s. I set up consults with all, & after, I decided Dr. Dadvand was my top choice. In terms of price, he was middle of the road. Not the cheapest, but also not the most expensive, & that's what I was looking for. The best bang for my buck, a competent Dr. who could get the job done without gouging me in $ & profit, because I find in life the saying, "You get what you pay for" is typically correct. Case in point, MEXICO! Anyways, my main reasons for choosing Dr. Dadvand were the volume of gynecomastia surgeries performed (library of good before & after photos), his demeanor & personality (super laid back & chill), & lastly & most importantly to me, his dual accreditation in both cosmetic/plastic surgery & general surgery. Having never been sedated before, this calmed a lot of my nerves, knowing that if anything went sideways while under anesthesia, as Allstate says, "I was in good hands" having an actual hospital surgeon on board. What I noticed in my case was a drastic difference in the flatness & contour of my chest, as well as a noticeable difference in the size, color, & shape of my areolas. Today, Sept. 2nd, 2014 marks exactly 3 weeks since my surgery. Final thoughts: At 3 weeks, I'm still healing. The Dr. told me it can take anywhere from 2-5 months depending case by case before you really can judge a final outcome. It I was to put a % on my satisfaction with the cosmetic appearances alone before & after, it would be 95%. I'm hoping it will be 100% when all is said and done. If I was to put a % on the comprehensive treatment/ customer service I received, it would be 100%. Overall I highly recommend Dr. Dadvand for this surgery, & am sincerely happy with what I see. I chose to go into great depth in my review solely because I know how important of a decision this was for me & how important reviews by actual patients can be to those who just want to find a doctor that can get it right the first time. Really word of mouth by strangers online is what led me to him in the first place. So take comfort & find peace of mind knowing that if a perfectionist like me is this satisfied at 3 weeks, dudes got skill. Take care & try to remember sometimes life is a somewhat blind leap of faith.- Kyle Blum
When I think of Dr. Dadvand, I think perfection, I think excellence, I think care.. This post took me over a year to write and for that I am deeply apologetic.. But I just had to be sure, and these results speak for themselves. Dr. Dadvand is an Amazing surgeon. From the minute I walked into his office, greeted by his staff, and shook his hand, I knew I wasn't going anywhere else. Everything from the consult on day one to post surgery follow ups, everything ran incredibly smooth. Dr. Dadvand truly cares about his patients and about his work, he was there every step of the way and for that I can't thank him enough. I had Gynecomastia surgery and had always been a bit self conscious about how my chest looked in or out of a shirt.. Getting this surgery was the best thing that had happened to me and changed my life. Over a year later, the results are incredible. No other doctor can do what Dr. Dadvand did. If anyone is considering this type of procedure, I strongly recommend Dr. Dadvand at Profiles. – Tony J.
First off, I myself am a physician. I had bilateral male breast reduction surgery for gynecomastia and I whole heartedly recommend Dr. D. I had thought about getting the procedure done for the past 2 years because I was self-conscious going to the gym, going to the beach and even just wearing fitted t-shirts. I finally decided to pull the trigger about 6 months ago and I'm so glad that I did.
I looked around, got several quotes and visited several doctors. I knew I wanted someone that did a lot of these surgeries for guys. I also knew that I wanted a full resection instead of lipo. Dr. D's office quoted a price right in the middle. It wasn't the cheapest nor the most expensive but Dr. D really stood out from the rest. He has a great demeanor, is extremely competent and honest but most important of all, he really cares about his patients. Coming from a doctor, I know you can't put a price on that.
After my initial surgery, I had a lot of swelling. These things happen but even though it was the evening on Valentine's day, Dr. D took me in and evacuated the swelling as soon as he found out. I eventually needed to go back to the OR one more time but things have turned out great. He really did an excellent job and I'm so glad I had it done by Dr. D. A terrific guy and a great surgeon. – Mike S.
If you are a man who wants to get rid of his gynecomastia and is looking for a doctor you can connect with and is a master at what He does, go to Dr. Dadvand. I am almost 5 months after the procedure, still healing but I can see I chose the perfect doctor. Thank G-d no scar tissue was formed, the stitches are not noticeable, and the results are outstanding.
He is a really good doctor, highly recommended. – Don B.