Categories
Photo Gallery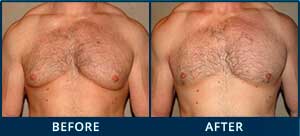 More Photos
Different Grades of Gynecomastia
Posted by Dr. Dadvand September 8, 2022
The different grades of gynecomastia play an important role in my decision-making when it comes to surgery for my patients in Beverly Hills. The severity of my patient's gynecomastia will determine my surgical approach. It is not a one-shape-fits-all kind of procedure, and consideration must be given to gynecomastia grade in terms of breast tissue, skin tone, and nipple position.
Let's Take a Look at the 4 Grades of Gynecomastia
Grade 1
Breast tissue is isolated within the borders of the nipple and areolar, the skin tone is good, and the nipple position is perfect. This type of gynecomastia is also referred to as a puffy nipple.
Grade 2
Breast tissue has gone past the borders of the areolar, but the skin tone is still good, and the nipple is still in the correct position.
Grade 3
The breast tissue is beyond the areolar borders, and droopy skin has resulted in a visible fold-over with a little bit of shadow underneath the breast.
Grade 4
This is the most severe type of gynecomastia. Patients present with excess fat, too much breast tissue, skin tone, and nipple position issues. The breast appears more feminine than masculine.
Gynecomastia is Not a Cookie-Cutter Problem
Each patient requires a very specific plan that addresses the severity of the gynecomastia, and it has to match the patient's body. This is why I don't rush my patient consultations. I take as much time as is needed to evaluate my patient's gynecomastia presentation in detail to ensure the best surgical plan based on my patient's body type and desired results.
I am Dr. Babak Dadvand, a double board-certified plastic surgeon serving patients throughout Beverly Hills, LA. I value my patient-doctor relationships and appreciate the trust that each patient places in me to help them achieve their aesthetic desires.
In the below video, you can see what different grades of gynecomastia look like before and after surgery.