Categories
Photo Gallery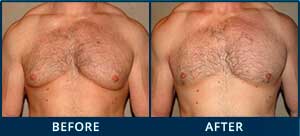 More Photos
Grade 4 Gynecomastia Surgery on a Teenager
Posted by Dr. Dadvand October 18, 2022
Gynecomastia can have profound consequences on the confidence and development of the growing teenager. This 16-year-old patient of mine presents with severe gynecomastia – grade 3, bordering on grade 4 in California.
I am absolutely honored that his parents entrusted me with his gynecomastia surgery. Especially since I know that no amount of exercise or diet will get rid of his excess breast tissue. And, my goal with this challenging case is to reduce my patient's breast size and create a more masculine chest contour with Vaser liposuction and excess breast tissue removal. My intention is to ensure minimal scarring in his breast area, and I will instead adopt a "wait and see" approach when it comes to his skin's response post-surgery.
You may have noticed from my previous videos that I prefer to make my markings while my patients' are in a standing position. This allows me to visualize how the patient's chest will look in the most natural position. In this particular grade 4 gynecomastia case I need to remove fat from the breast and side chest area before proceeding with the breast tissue removal.
In this video, you will see the remarkable difference in his chest contour once the 3.5L of fat is liposuctioned from his chest area. Even more pleasing are the results once a large amount of breast tissue is removed to create the masculine contours of the chest. Then, we wait for the healing process to occur and see how the skin tightens over the next 4 to 6 months for the final gynecomastia results. I have no doubt that the improvement will be even greater than his post-op results as seen in the video.
I am Dr. Dadvand, a board-certified plastic surgeon. Gynecomastia surgery is one of my areas of specialization. It is one of my favorite surgeries to perform since it immediately improves self-confidence and positive body image in the patients that I work with throughout Beverly Hills. Contact my office and schedule a consultation with me if you struggle with excess breast tissue that negatively affects your well-being.