Categories
Photo Gallery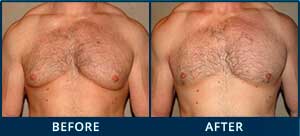 More Photos
Grade 2 Gynecomastia
Posted by Dr. Dadvand September 28, 2022
Men who struggle with enlarged breasts can feel emasculated and suffer from poor body image and low self-confidence. This poor body image can affect all areas of a man's life and therefore I always strive to deliver the best possible results for my male gynecomastia patients. It is, after all, one of my favorite surgical procedures. In one of my previous blog posts I shared more details about gynecomastia grading systems, and now I'm sharing more about grade 2 gynecomastia.
In this specific patient, as seen in the below video, the breast tissue goes outside the areolar and he has some fat that goes on the outer chest as well. And, if I turn him to the side a little then you can see the coning that is indicative of grade 2. In a normal male chest, the contour should be flatter and more masculine. Now, before I begin the procedure I do my markings and my surgery roadmap. I always mark my patients in the upright standing position because this is the most normal natural position. And the reason why I prefer marking my patients in this position is because when they are on the operating table, laying down, then everything looks different. I take a great amount of time with my markings because they guide me through my surgery.
In this particular gynecomastia case, I am applying my Vaser liposuction technique to shape the chest. This is done by removing the excess fat in the chest and outer chest area before reducing the breast tissue for a more enhanced masculine appearance. The great thing about this lipo ultrasound technology is that it melts the fat and improves precision while being gentle on the body throughout the chest contouring. I usually have the patient sitting up slightly, with their arm down, so that I can easily discern where to remove the excess fat during the lipo.
Once the Vaser liposuction is complete, I can move on to the breast and remove the excess breast tissue as marked out. During this process my goal is to create a nice, smooth transition from the upper chest to the lower chest. Once this is complete I can close up and enjoy my patient's satisfaction with their improved masculine appearance. Of course, many patients are often concerned about scarring, but I assure them with great confidence, as seen in the video, that the entire procedure is completed through tiny incisions that ensure sufficient access, minimal scarring, and a quick recovery.
I am a board-certified plastic surgeon with a background in fine arts and consult with patients throughout Beverly Hills and LA. My areas of specialization include gynecomastia and FTM/FTN transitioning procedures.